American Made since 1987
About Us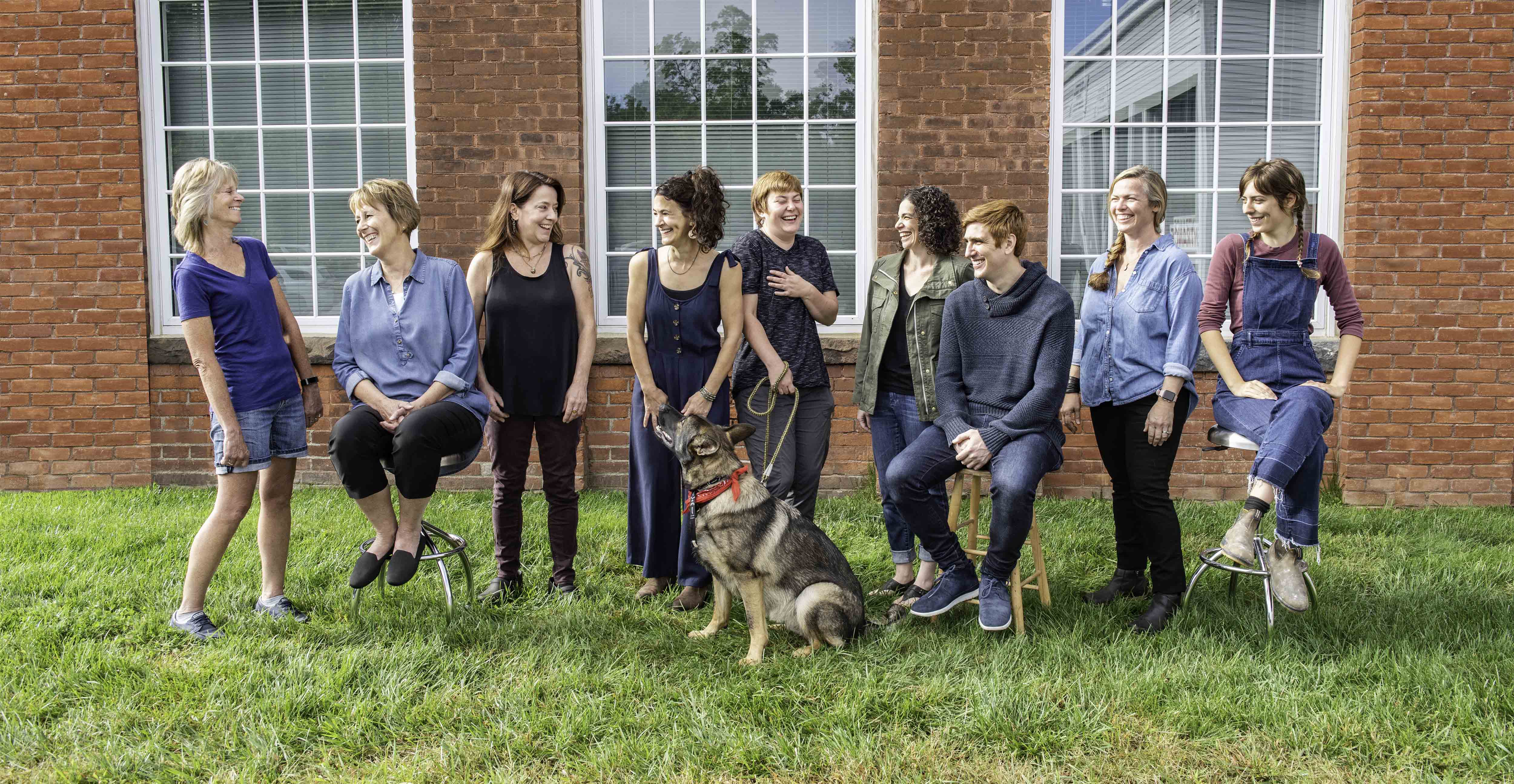 At Janna Ugone & Co, creating soulful lighting that is as timeless as it is unique, is our passion. Inspired by nature and the world around us, our pieces are works of art crafted to enhance the beauty and functionality of your home.
Our collections are designed for people who seek statement pieces and stories. Who delight in the outdoors, travel, and an artist's imagination. And who relish blending art and utility into their daily lives, taking the time to appreciate intricate details up close.
Each purchase at Janna Ugone & Co. supports American artisans and small businesses. You're an important part of keeping this traditional art alive and bright! We thank you.
View our lighting collections
Our Story
Since 1987, Janna Ugone & Co has created a modern heirloom USA made collection of artful lighting, lamp shades, and home décor.
We're driven by the craft of handmade lighting, and are dedicated to local production. Our small group of highly-trained artisans collectively create each piece, handling the many steps along the way with great skill and care. There's always lots of discussion about efficiency of production and plenty of old-fashioned work ethic, and we wouldn't have it any other way. From sculpting our own hardware to designing, printing and fabricating shades and bases, we're proud to present to you a collection that is authentically handmade in America.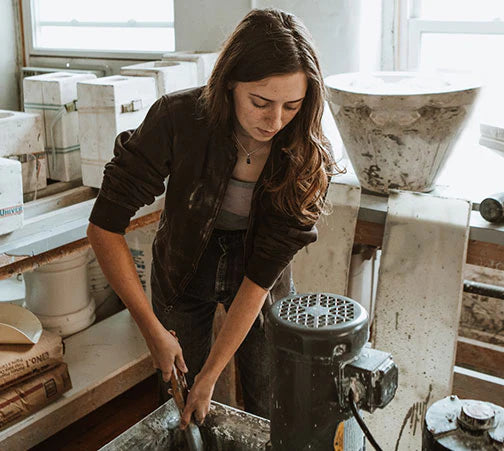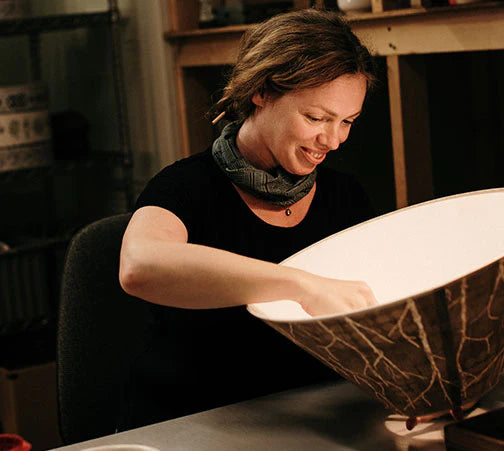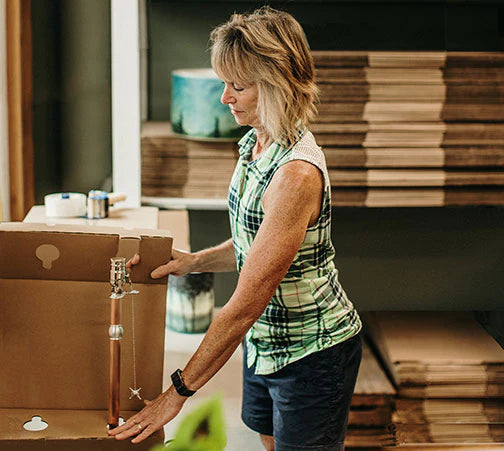 We're excited to offer you distinctive table and floor lamps, ceiling and wall lighting and home decor that transform space and stir the imagination. Our customers appreciate our personal touch and dedication to details. It's this quality and distinctiveness that has been virtually lost in much of today's lighting marketplace and manufacturing.
Our Showroom + Studio
We'd love for you to visit us in beautiful Easthampton, MA and get a glimpse into how our pieces are made! Located in a historic New England mill building, our sunny studio offers unique opportunities for peeking at in-progress works, browsing lighting options and personalized service. It's paradise for interior design and home enthusiasts.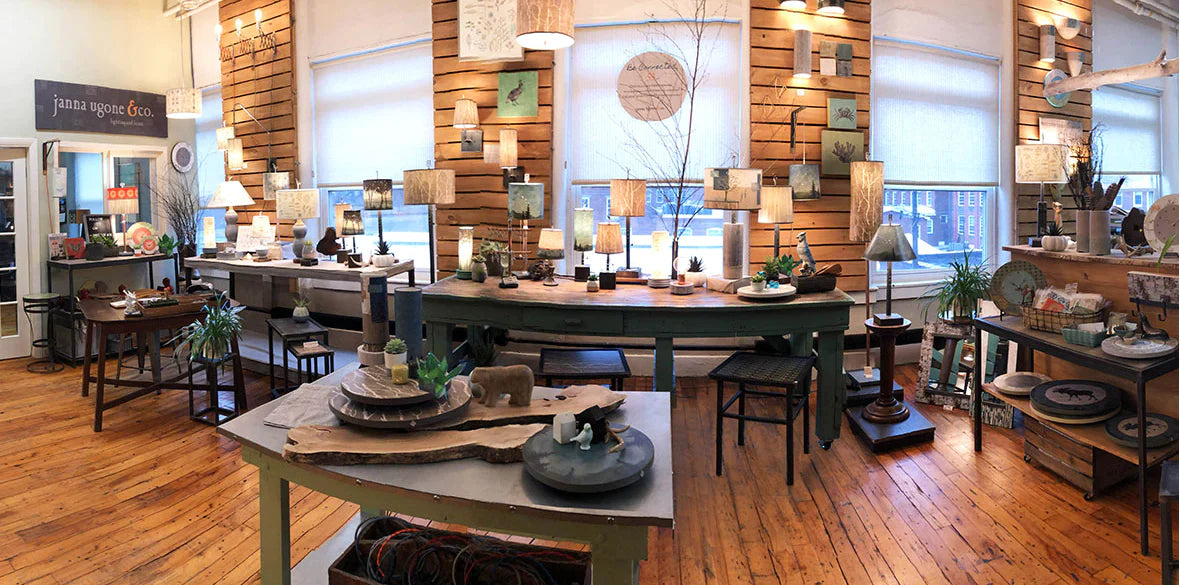 Studio
In our on-site studio (yes, we really do work here!), we're delighted to share new work and prototypes. We'd love you to stop by!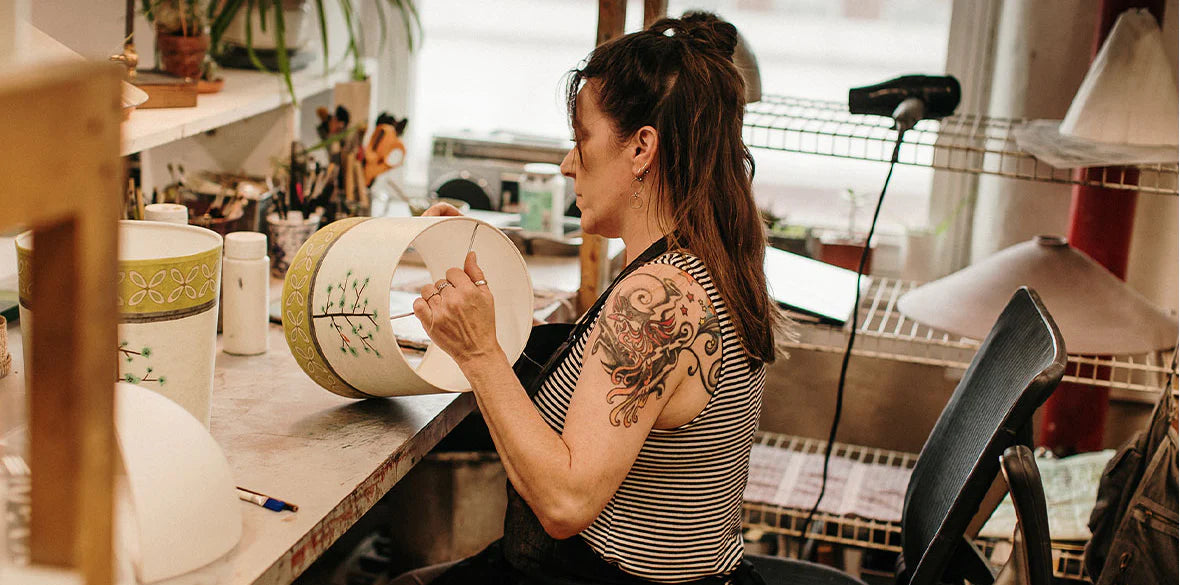 Showroom Shop
Our shop offers personalized service as well as ceiling- and wall-mounted fixtures not available online.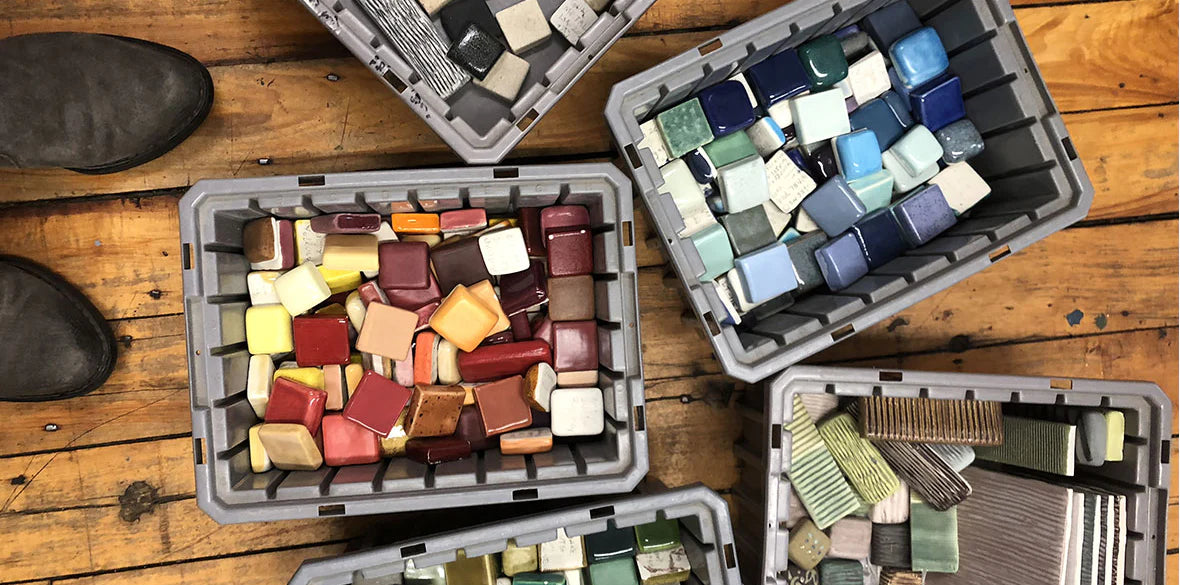 Library
Perfect for when it's hard to visualize! We offer a sign-out library where you can take pieces, color chips & swatches home to view in your space. That's beauty and fun of being in the neighborhood. Just one way to ensure you're getting the perfect lighting for your home or office!
LampBar
Bring in a cherished base of your own (be it a flea market find or a modern lamp from Target) to try on shades from our floor to ceiling assortment. We often assist with hardware retrofitting or problem solving.
Outlet
We offer you the chance to grab some of our overruns, seconds and past collections at great prices. You'll be treated to some true gems!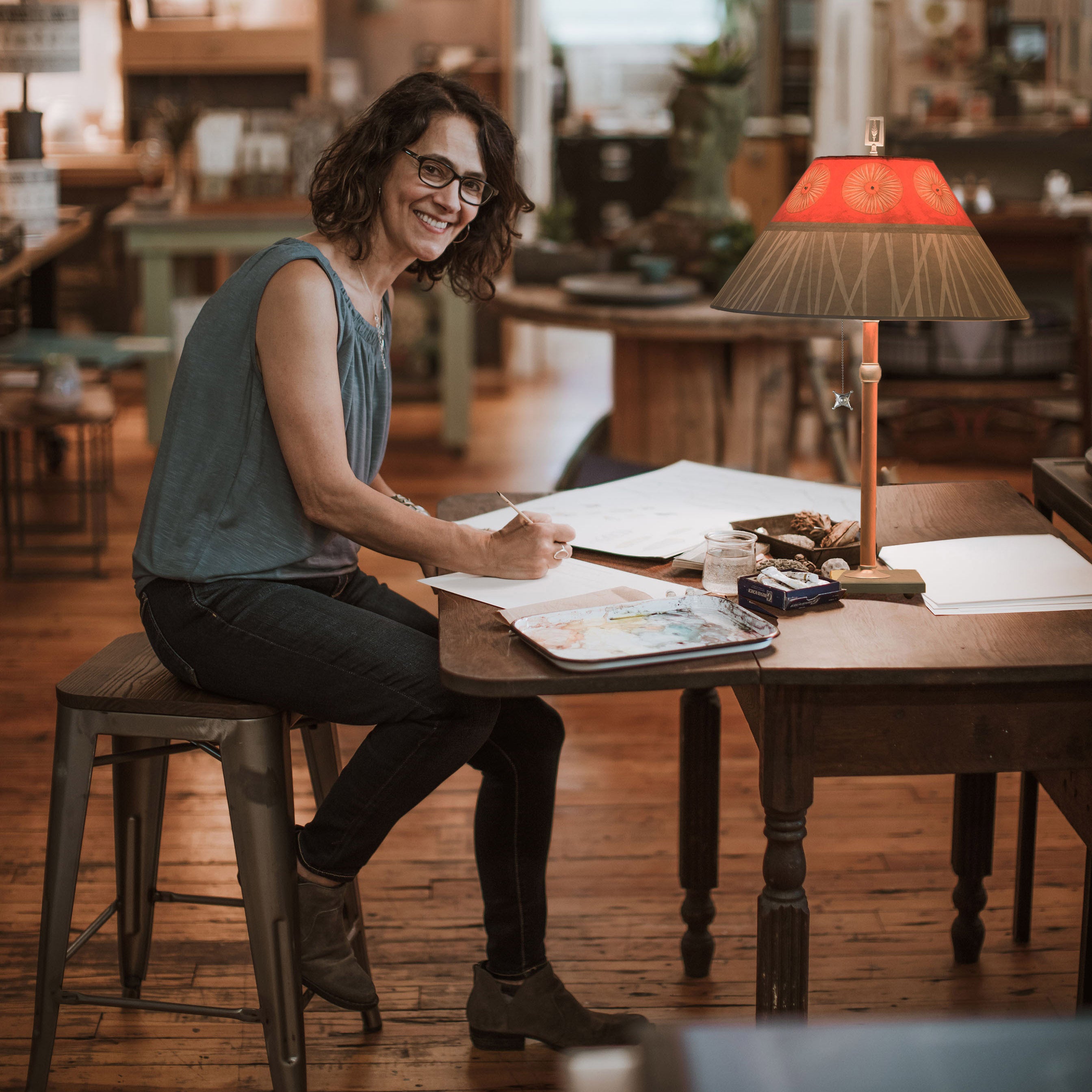 Meet Janna
Designer Janna Ugone is passionate about lighting as a key component of making a home feel and look its best. Merging traditional artistic processes with innovative technology, Janna continually strives to present fresh ideas for your home.
Janna has always been drawn to the beauty of nature, and uses this inspiration as a constant touch-point to her work. As an avid gardener and collector of found curiosities, Janna welcomes the calming natural world and love of the outdoors into our daily lives; as one customer said… "making our home feel like a retreat."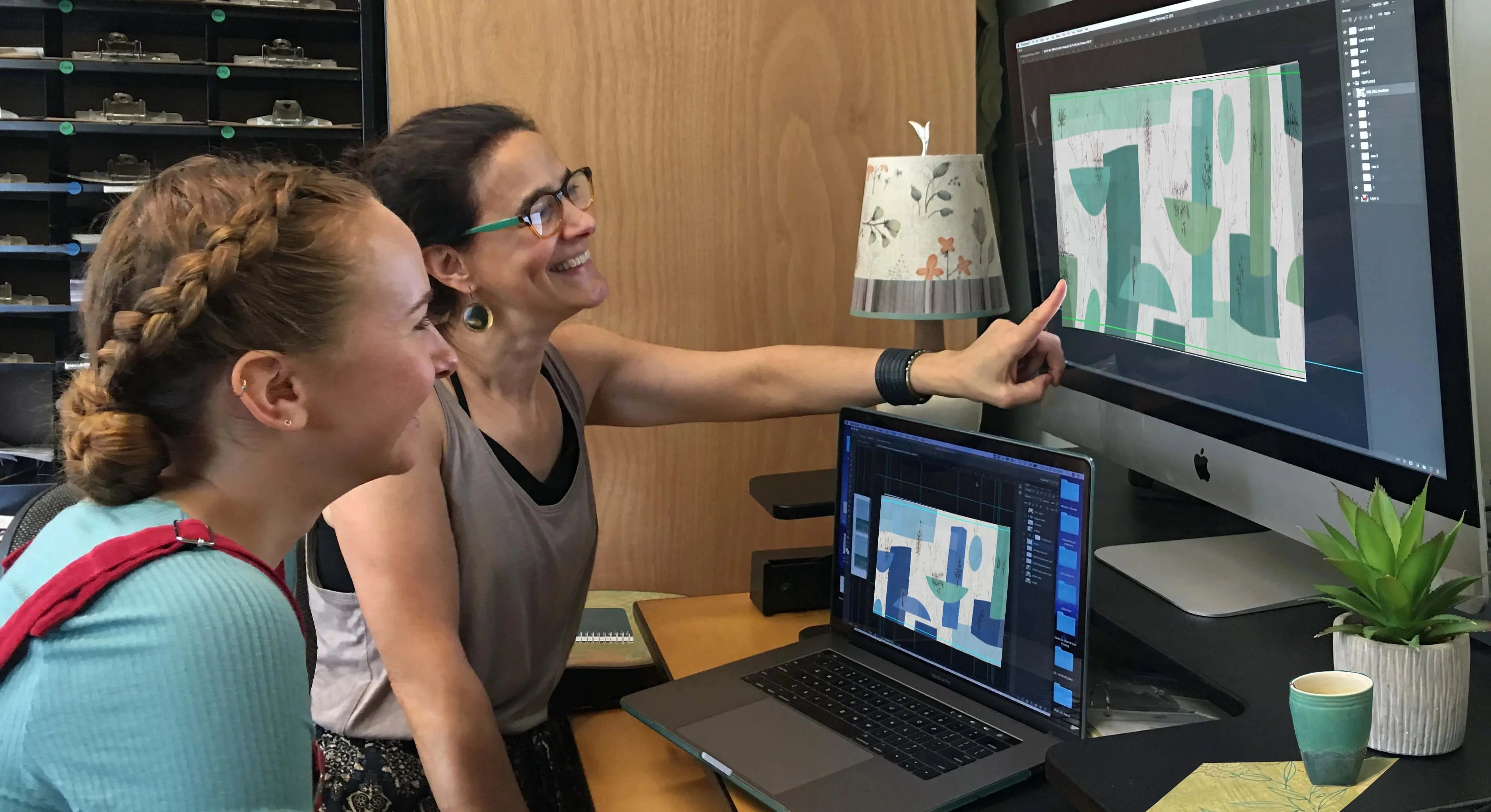 Giving Back
We're a quintessential American company with a constellation of 53 local artisans and small-batch manufacturers contributing to every lamp that leaves our studio. We're a tight knit group: our studio staff, most have been adding soul to our product for over 25 years. Together with the local businesses in our neighborhood, we form a network that actively works to support our community.
We are proud of our fully accredited high school internship program, which offers young aspiring artists the opportunity to learn about the art of business. From photoshop to pricing artwork to shipping, it's a practical glimpse into possibilities for their future.
Since 1987 we have proudly donated over 1,000 lamps to charity events, both near and far. It's giving back that gives us purpose and makes us the company we are.
During the 2020 Covid Pandemic, Janna and her daughter, Gina Whalen founded The Western Mask Project. Funded by Janna's husband Peter's company Whalen Insurance Agency, it became a full out family endevor. The company created over 14,000 masks, coordinated 80+ volunteers and supported 60 unemployed sewers who were unable to claim unemployment. All proceeds went directly back to the sewers.